Google Alerts is one of the most interesting gems of Google that only few people know about. This tool is so powerful that it lets you keep track of current affairs, latest trends, interesting topics and anything that has just recently appeared on the web. If you are not using it already, then consider these creative ways to get started.
Perform Automated Vanity Searches and Find Out Who's Talking About You
One of the ways through which you can make the most of Google Alerts is by performing automated vanity searches and finding out who is talking about you. You can keep track of the ways people are mentioning your name on the web while counting the times they have mentioned your name on the web. People from all over the world use Google Alerts to know the opinions of people about the organization they have recently worked for, their startup details, personal activities or non-profit. Keeping in view the benefits of Google Alerts, a startup founder said that it is a great way to avail the expensive PR services for free.
When you keep searching what people are saying about you and your organization a habit, then only Google Alerts start performing automatic vanity searches.
What you need to do is to type your own name and your company's name in the field of search query. You can even tell Google Alerts whether you want all the results or just the best-quality ones and how and when you want them to be delivered to you.
You can even decide to get them via email or by RSS feed that Google Alert wants you to subscribe to. Whatever the method you choose, but it is for sure that you will get the results through Google Alerts.
Stay Up to Date On News from Far Away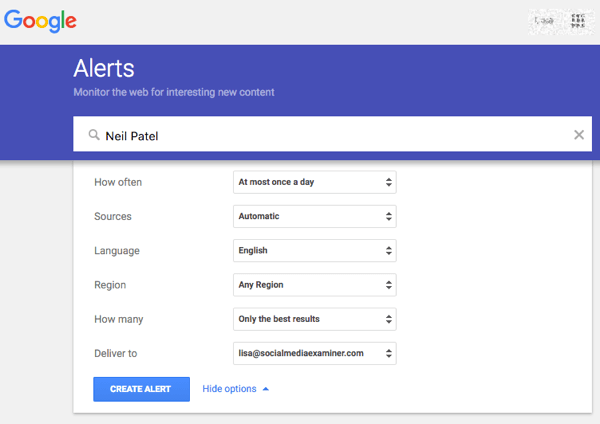 One of the creative use of Google Alerts is that it makes you stay up to date on news from far away. If you are someone who is living far from your house and wants to know what is going on at your home, you can use Google Alerts for this purpose too. Even if you have moved from a place and shifted to the other, you can still know what's going on in your old area by using Google Alerts.
What you need to do is to modify your search terms for the name of your home country, hometown, and results like zip code. You can add as many search terms as you know to narrow down the results and mention long names to get the exact matches.
There is a person living in London using Google Alerts to know what is happening in his old hometown and when he gets crime alerts from that place, he doesn't go to that area to meet his friends during that time.
It is safe to say that Google Alerts play a vital role in getting many of our tasks done in a creative way.
Author Bio:
Ellie Malan is one of the most good reputation writers in the field of proficient writing. She is looked up to Professional Essay Help, by many promising writers. She has been writing for the past five years and has earned great positive reception from his customers.